Route Truck Planning and Delivery
When new and unscheduled deliveries become scheduled deliveries in the IRIDIUM Retail Management Software tool, a delivery stop is created. Schedulers and authorized sales representatives may schedule deliveries within a given time period or for a specific time slot, and the system ensures that schedules cannot be double booked. Detailed notes about the delivery, or delivery directions may also be added to the screen.
The capabilities of the delivery fleet have the power to "make it or break it" in the bottled water industry. Regardless of the number of trucks or deliveries to be made in any given day, you need flexible route scheduling that allow for multiple route types (product or service) and flexible delivery cycles (from weekly to monthly or anywhere in between).
Keeping customer communication at the forefront of receiving and delivery, the IRIDIUM tool facilitates a delivery schedule that is available on mobile devices and interfaced with powerful navigational software—the devices utilizes GPS-based technology that allows for route assistance and tracking. Route stops and orders can be communicated to the driver, including new and existing customers within a defined route territory.
Interfacing with a handheld device that can generate delivery tickets, drivers can easily look up customer purchase history and installed equipment (for service calls), as well as scan barcodes and capture electronic signatures as proof of delivery. Immediate data collection helps to facilitate on-truck inventory as well as end-of-day truck balancing of inventory, cash (or cash equivalents), and empty containers (empties).
When loading and unloading a truck, accurate inventory numbers help the warehouse load product, equipment, and container balancing according to the routed order of deliveries. As items are returned, the tool helps keep an accurate inventory both in the field and back in the warehouse.
In addition to generating pre-delivery notification emails, the IRIDIUM tool can also be configured to send follow-up customer surveys.
The amount of delivery time allocated for each stop is automatically defined based on the items on the delivery ticket. For example, a delivery ticked containing five items with a defined delivery time of ten minutes per item automatically allocates 50 minutes for the delivery.
Additionally, items scheduled for delivery may be automatically tagged as reserved items for delivery using the "pick and send" functionality of the tool. Once delivered, the "verify sent" button is selected by the scheduler. The Inventory Management and Daily Accounting Systems are then automatically updated accordingly. Miscellaneous delivery charges are further flagged on the delivery status report to accumulate those revenues being captured as a result of delivery services. These charges can then be analyzed by the delivery department manager. Additionally, the truck and driver names are tracked with each delivery to ensure quality customer service.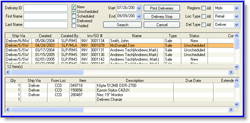 Delivery Planning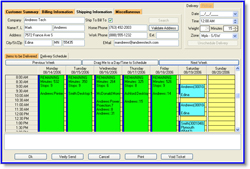 Delivery Entry Schedule
Delivery Routing
As an additional option, the user may purchase Microsoft's MapPoint software product to utilize advanced delivery route planning capabilities and generate delivery routes and directions to each delivery stop.
MapPoint automatically determines the most-effective sequence of delivery stops based on all scheduled deliveries within a given time period. Detailed directions are also generated for deliveries scheduled according to pre-determined time slots. In both cases, hard-copy print-outs are provided to the driver; print-outs that show detailed directions and the optimized route order.
Each user-defined delivery zone defines the delivery starting point, traditionally distribution centers for densely populated regions with multiple stores (or this may be defined as a single store for areas with only one store). Should items need to be picked up from a store before delivery, retail locations may be easily defined as delivery stops.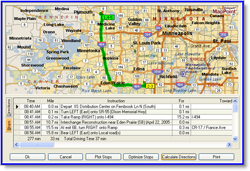 Delivery Route Optimization
Delivery Items
The tool also allows schedulers and authorized sales representatives to view all new, unscheduled, scheduled, delivered, or voided delivery tickets. Particularly for new and unscheduled deliveries, the ability to sort information by creation date easily defines a first-come, first-serve scheduling call order.
If payment is due on an order prior to delivery, balances must be settled in the system before deliveries can be scheduled. Payment on delivery amounts are printed on delivery tickets, flagging drivers to collect funds at the time of delivery.
The ability to create partial shipments allows items to be shipped on different dates. As such, multiple delivery tickets are created and customized based on customer requirements. Delivery items may be viewed and sorted based on delivery region and location type. Closed and voided delivery tickets may also be easily displayed within a user-definable date range.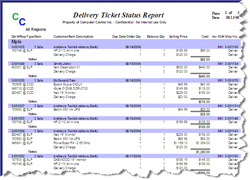 Delivery Ticket Status Report
Delivery Regions and Delivery Zones
Each company has the ability to define customizable delivery regions, which are tied to a retail location. Within each delivery region, the system categorizes delivery zones according to zip code. Any number of zip codes may fall within a delivery zone, depending on the population of the area.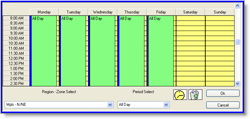 Delivery Zone Time Period Maintenance
Printing
In addition to printing delivery routes and directions for drivers, the system may also generate and print delivery tickets, ticket status reports, and delivery schedules. These items may be exported to Adobe PDF or Microsoft Excel formats for electronic formatting and distribution.
Delivery Ticket